New Pony Wars releases
23rd Jan 2022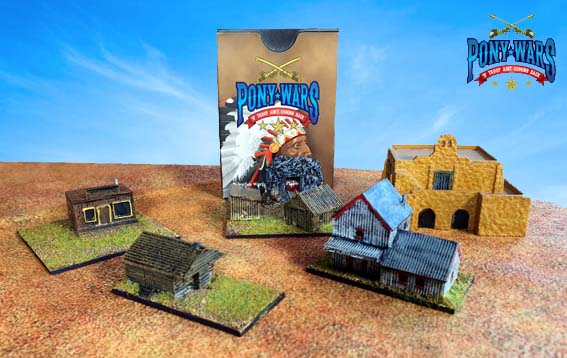 The third week of the New Year and our third announcement of new releases. If we keep this pace up, we might actually manage to release all of the ranges and products in the end of year forecast! But before we get to all that, there is the small matter of this week's order update. As of Friday 21st January, we had reached order number #19480.
To put this in context, we are now working on orders placed in the first and second weeks of January meaning that we are now operating with an approximate two week gap between receipt of an order and it being cast. While we are working hard to reduce this gap further this represents a massive improvement over the delays experienced last year. I have to give acknowledgement to our casting team who have really hit their stride in terms of turning orders around.
This week's newcomer to the Baccus website is an addition to our Pony Wars range in the form of a complete set of the buildings you need for the Pony Wars game, including the Mission, which is a scaled down replica of the iconic model used in the original game, two settlers' homesteads, a mine entrance and buildings and a Stagecoach/Pony Express depot. You can find all the details if you click here.
As we shake off the problems that Covid presented us with last year, we are now really getting into our stride and getting our plans for expanding our ranges into full swing. There are lots more goodies coming through the system, so stay posted.
Finally for today, and following on from last week's announcement, the applications for games and traders at this year's Joy of Six are coming through nicely and I'll be posting an update on both in a few day's time.